Sue Tait - Artist and Teacher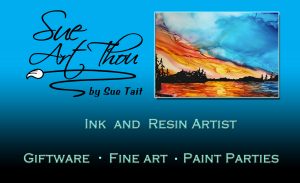 SUE ART THOU – Resin and Alcohol Ink Artist
I began drawing at an early age and started painting in my early 20's. I am most inspired by the natural beauty of my surroundings and admire the impressionistic works of  such artists as Toni Onley, Monet, Emily Carr, Turner and the Group of Seven.
Most of my adult life has been spent experimenting with pigment and colour behaviour. I originally worked with pen and ink and watercolour, a medium in which pigment behaviour is most apparent. Introduced to alcohol ink and resin in the past few years, I became mesmerized by the unique qualities of this medium that has a spell binding effect and takes on a life of its own.  I love the healing process that art can create as one delves deeper into connecting to their true self and to nature. Art is healing for me; it has the ability to create inner peace and acceptance. Namaste.  Enjoy the creative journey with me…
Paint Parties and Classes
I offer paint classes both as a group and individually.  My focus is solely on helping you find your own creative voice.  Because the inks do the work for you, my classes are fun for both the beginner and advanced. Contact me at sue@stantait.com for more information.
What are Alcohol Inks Anyway?
Alcohol inks are dye based, vibrant pigments that can be used on non-porous surfaces like plastics, glass, ceramic, gloss papers and metals. These inks were originally used in scrapbooking and various other craft projects. This medium has been used in fine art creation for only a short time; the first documented account being in 2006. The main substrate for painting with this amazing medium is Yupo paper, now available from Legion Paper and through online art material suppliers. Yupo paper is a synthetic, plastic paper that has been on the market for over twenty years, but has only recently become known and popular with fine artists. Ceramic tile, obtained through home improvement centers, is also a wonderful substrate for the inks.
Available in many different colors from several manufacturers, the most extensive collection of ink hues, tools and accessories comes from Ranger Ink, Jacquard and Copic.    Creating with alcohol inks is a fun, liberating and easy for beginners.  The vibrant colors, extensive techniques, varied approaches and happy accidents create interesting effects, patterns and designs. The inks teach people to go with the flow and let go of their tight fisted grip on their art and on life.