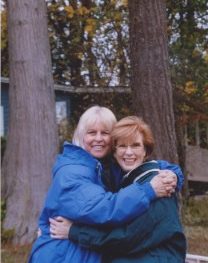 In December 2000 my dear friend Adria Trowhill cleared her life and business calendar and flew to Seattle from Toronto to care for me when I came home from the hospital after my emergency colon cancer surgery.
Adria encircled me with unconditional loving care 24/7 during those first two and a half weeks of my recovery. On top of all that, she surprised me with this special gift of a gold angel pendant that she had commissioned to be made for me by Stan W. Tait, a Canadian jewelry designer. I have worn The Angel Pendant every day since then, as a reminder of my dearest angel friend and her healing presence in my life.
I recovered from the surgery and the chemo therapy, and today I am still clear of the cancer.
In 2008 I published a book called Violet's Vision, about Violet, the Guardian Angel of Vision. Violet's story reveals the transformation impact in the world when we live true to the essence of who we are.
One day I was inspired to find Stan Tait to see if I could offer The Angel Pendants on my Violet's Vision web site. I found Stan on the internet, called him and we connected for the very first time. He had never known my name or the results of my recovery, and I had no idea that he was contributing money to charities from the sale of The Angel Pendants. Stan is a very special man and a gifted artist. I am honored to be a part of The Angel Pendant story, and it is my desire to pay it forward to others who are called to be Angels making a difference in the world.
Thank you again Stan! Fran Fisher, Seattle, Washington